As I announced recently on my Facebook page, Manager to Mom is participating in two great cash giveaways this month! They are both group giveaways (i.e. sponsored by multiple blogs) and the entries will be simple each time. Group giveaways are an awesome way for blogs to offer their readers a chance at bigger prizes, and also to grow their followings quicker leading to more fun reviews/giveaways and increased interaction!
Without further ado, here is the first one!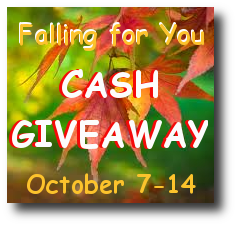 "
Falling for You
" is sponsored by 26 blogs, and the prize is a $130 Paypal credit or Amazon code! Nice chunk of change leading into the holiday season, don'tcha think? The event will run from October 7th to 14th.
To enter, simply like each participating blog's Facebook page and you're in! This may seem like a lot of pages, but Rafflecopter makes this a simple process - just two clicks per page! If you're in a hurry, this should take all of about 2-3 minutes. If you have a bit more, however, I encourage you to check out some of the other participating blogs for more great reviews/giveaways, coupons, tips and other family-friendly content!
Good luck!!